We recognize that all our patients are unique and deserve to receive orthodontic care that reflects their individual needs. Our experienced and talented team is committed to working with you and your family to create a comfortable, stress-free, and rewarding orthodontic experience every time you visit our practice.
We are pleased to welcome you and your family, and we look forward to working with you.

Patti
Receptionist
Patti has lived in Frederick for 20 years and has been in the dental field for over 25+ years. She joins our office with the eagerness of wanting to expand her trade by adding orthodontics to her list of accomplishments while bringing with her a wealth of experience and savvy to our practice! Her passions include spending time with her family...especially her granddaughter-Haley and growing her beautiful garden.
I am excited to join Bloom and Reddy Orthodontics because of the amazing patient interactions that I have eveyday. It is fun to learn new things and I have taken on the challenge with gusto. Plus, I really enjoy my time in the office because of the ladies that I work with!
---

Jackie
Treatment Coordinator
Jackie has had over 30+ years in the orthodontic field. She has an extensive background in dentistry from being an orthodontic assistant, receptionist, insurance coodinator and treatment coordinator. She has done done it all and shines in any position that she is placed.
---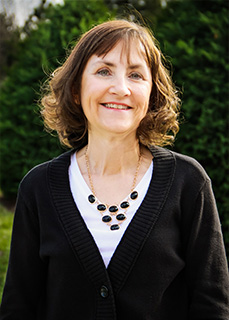 Terry
Financial Coordinato

r
Terry has been a valuable addition to Bloom and Reddy Orthodontics since 2006. As our financial coordinator, she manages all of our patient finances, files insurance claims and trouble shoots any and all financial concerns on behalf of our patients and their parents. She has 28 years of experience in the dental field, 18 of which have been in the specialty of orthodontics.
Terry and her husband live in New Market with their youngest son Brandon and golden retriever Rosie. They have a total of three children and five grandchildren. Terry's leisure time is spent line dancing and volunteering at school/church activities.
I truly enjoy my job because I know that I can help make a difference in how another person feels about themselves. I like working with families to make financial arrangements that suit each one's individual needs. It is so rewarding to watch a patient receive a beautiful smile...what better way to see them so happy. Both the doctors and all of us continue to use the latest and most innovative technology to deliver the best care possible. When I hear someone mention B and R Ortho...I can proudly say, "Hey, I work for them!". I enjoy what I do and I enjoy being a part of the B and R Ortho family.
---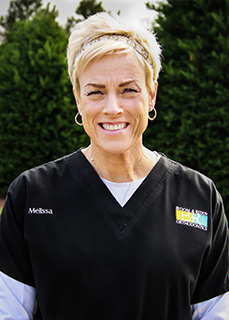 Melissa
Orthodontic Assistant
We welcomed Melissa to the Bloom & Reddy team in 2013; at the time, she had 15 years of exemplary experience under her belt. As one of our clinicians, she can most often be found assisting Drs. Bloom and Reddy, ensuring that each patient is treated as our utmost priority. She especially loves working with children all day, and watching as they grow into young adults with beautiful smiles.
At home, Melissa has two children, Ben and Clare. She is passionate about clean eating and living a healthy lifestyle, and enjoys being physically active. Melissa loves to read and has recently become very interested in spirituality.
I love my job because I get to work with and build a special rapport with kids and patients all day! I see them grow into beautiful young people while helping to provide them with an amazing smile. It is sad to see then grow up and move on, but I am happy to be a part of their lives even for a short time. Being in this industry for many years, I have seen all kinds of patients, doctors and offices and I have to say, that I am here because this place is my home away from home.
---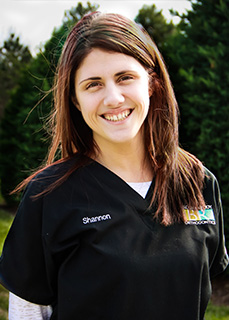 Shannon
Orthodontic Assistant
Shannon joined the Bloom & Reddy staff in 2014, and brought nine years of experience in general dentistry with her. She is a Maryland state certified Radiology Technician and a Maryland state qualified Orthodontic Assistant. She shares a dedication to upholding our patient-care philosophy with the rest of our team. Shannon loves being creative and works avidly to find new ways to keep our patients engaged with contests and events!
When she is not working with us, Shannon enjoys spending time with her family and daughter, Jacilyn.
Not only do I love bonding with our patients, but I also get to work on cool ideas for the office like contests and fun days for our patients. I enjoy the trust that the doctors have placed in me to help me become an orthodontic assistant. I have learned a lot being here and am so much more experienced and confident in my abilities. I love my B and R Orhto family!
---

Britney
Orthodontic Assistant
She lives in Thurmont, MD where she grew up. Brittney reside with husband and two beautiful children, Tristen(6) and Luci(1). They love spending time together as an active family going on outdoor adventures to the beach, hikes, camping and scouting trips.
This is my first experience in the dental field and I really enjoy working for B and R Ortho because I am constantly learning new things and have so many opportunities for growth. I started as a sterilization tech, but now I am in the process of studying to be an orthodontic assistant. It is a fun and exciting work environment(maybe because everything is new for me), but I especially like getting to know the kids and talking with them about their day. Being a mom, I get to see these kids at different ages and it's great. Plus, I love the doctors and staff, they are so supportive!
Maria
Orthodontic Assistant
I started dental assisting 16 yrs ago in a multi-disciplinary office. During those years, Orthodontics was added and this led me to my love of my profession. I have exclusively been an Orthodontic Assistant for about 13 years and happily counting. I am a native of Nicaragua where some of my family still resides. I am the mother of three fine, young girls-Isabella, Victoria and Genevieve, whom I love dearly. I enjoy spending time with my family, finding time for nature, art and music. I look forward to meeting you at your next visit, share some laughs and ultimately gaining your trust while providing exceptional care. Adios Amigos!
Here at B and R Ortho, I get to work beside such devoted and exceptional coworkers and Doctors who want to make your smile not just beautiful, but want to get to know you personally. I have been happy to be a part of the B and R family since March 2017 and think that this is a wonderul practice!