Invisalign® for Teens in Frederick, MD
We are a Certified Invisalign Teen Provider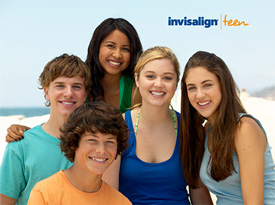 Drs. Reddy and Bloom are Certified Providers of Invisalign for Teens!
Drs. Reddy and Bloom, using Invisalign's advanced technology, allow your teen to experience unique, customized teeth straightening that's more precise and efficient than ever before. From the convenience of our Frederick orthodontic office, your teen can transform his or her smile without sacrificing convenience or aesthetics.
Invisalign for teens is very similar to traditional Invisalign. They both use clear aligners to activate tooth movement, eliminating the need for metal brackets and wires. The difference is that we can move through aligners more quickly because teeth move more rapidly in a growing patient. With Invisalign for teems, aligners are changed every week instead of every other week, producing faster results in a safe, stable manner.
Is Invisalign right for your teen?
If your teen is active and plays a sport or a musical instrument, or is involved in the arts like theater and performing, Invisalign may be a great option. There will be no issues with broken appliances and it offers cosmetic benefits at the same time.
We also understand that your teen has a busy life, and as a parent, so do you! Invisalign for teens offers incredible convenience, as visits to our office occur every other month instead of every few weeks. Your teen simply replaces one set of aligners with the next in the series once per week—no adjustments, wire changes, or bracket tightening needed!
Invisalign treatment gives both you and your teen a better teeth-straightening experience when compared to traditional braces.
Corrects both simple and complex teeth-straightening cases
Covered by orthodontic insurance
Proprietary SmartTrack® material and SmartForce® features provide up to 50% shorter treatment times with faster aligner changes
No pain from rubbing brackets or broken wires
Fewer unexpected orthodontist visits
Continue to enjoy all of the foods and activities they love
Removable trays for easy brushing and flossing
Making Your Teen's Smile a Success
The most important aspect of Invisalign is compliance. If your teen is amazing with the wear of his or her aligners—removing them only to eat, drink, brush, and floss—and consistent with changing them every week, the treatment will offer great results.
Get started on your teen's smile!
At Bloom & Reddy Orthodontics, we take the time to go over your teen's treatment and review his or her case from Invisalign to make sure that we get the result that we want. We will map out a precise treatment plan, including the exact movements of your teen's teeth and how long treatment will be.
We are happy to answer all of your questions so that you feel confident in our care and have a great experience. Contact our Frederick orthodontic office to learn more about Invisalign for your teen!
See What Other Teens Are Saying:
Connect with other teens to share your Invisalign Teen experience and find out what other people have to say about their treatment.